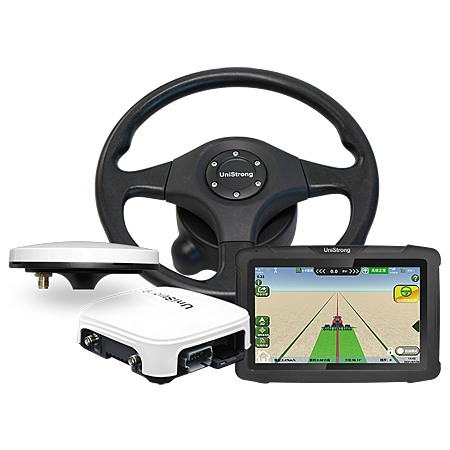 Precision Agriculture
EAS301 Pro
Precision Steering System
EAS301 Pro is an auto-steering system that can adapt to different crops, regions and characteristics of agricultural equipment, relying on the advantages of the whole industry chain in the field of satellite positioning. It not only greatly improves the operation efficiency of agricultural machinery by the centimeter-level accuracy of repeated farming operations and 24-hour uninterrupted work even in the day with strong lights or at night, but also reduces the labor intensity of drivers and increases the unit output.
EAS301 Pro has following features:
High control accuracy
Precisely complete your farm task owing to ±2.5 cm control accuracy, supported by our high positioning accuracy and high torque and high-speed electric steering wheel.
Atlas & aRTK technology
Do not need to set up any base stations to achieve centimeter accuracy, and work without interruption even when RTK corrections fail, based on our Atlas correction service.
Free from terrain worries
Do not need to worry about rough terrains, for roll and pitch of vehicle will be detected to ensure straight lines, supported by our terrain compensation technology.
NMEA message supported
Output messages GGA, GSV, VTG, GSA, ZDA, RMC and GST.
Rich optional accessories
- Angle sensor: it helps the vehicle to speed up to 0.1 – 18 km/h from 1 – 12 km/h.
- External IMU: it helps to improve the performance of auto-steering when you drive the vehicle in too steep and rough terrain at high speed.
- Rear camera: it helps to conveniently check the status of implements without turning round even at night, supported by its LED.
EAS301 Pro System
Accuracy
Dry land: 2.5cm ( ≤9 km/h )
Paddy land: 5cm ( ≤9 km/h )
Line acquisition distance
<10m
Vehicle velocity range
0.1 ~ 18 km/h
Correction data source
GSM, Radio, L-band, SBAS
NMEA message
GGA, GSV, VTG, GSA, ZDA, RMC, GST messages output
Data formats
RTCM3.X, CMR, ROX
Optional sensor
Angle sensor, external IMU, rear camera
ST6 Display
System
Processor
Qualcomm SDM450, Octa-core ARM Cortex-A53 64-bit CPU @ 1.8 GHz
OS
Android 9.0
RAM
2 GB
ROM
16 GB
Screen
Size
10.1" LCD
Resolution
1280 x 600
Brightness
750 nits
Touch panel
Capacitive touch screen, multi-point anti-glare
Communication
Bluetooth
BT2.1+EDR/3.0/4.1/4.2 BLE
Wi-Fi
2.4G+5G, IEEE802.11 g/b/n/ac
GSM
LTE FDD: B1/B3/B5/B8
LTE TDD: B34/B38/B39/B40/B41
TD-SCDMA: B34/B39
WCDMA: B1/B8
CDMA2000/EVDO: BC0
GSM: 900/1800MHz
Port
1 x serial port, 6-pin
1 x serial port, 12-pin
1 x serial port, 12-pin
1 x USB type-A, USB host
1 x USB, Micro-USB, USB device
1 x SIM card, SDHC
1 x TF card, 128G max
1 x GSM, Fakra D
Power Supply
Input voltage
7 ~ 36 V DC
Physical Specification
Dimension
270mm x 190mm x 40mm
Weight
1.3 kg
Button
1 x Power Button
Battery
None
Humidity
90%
Operating temperature
-20℃ ~ +70℃
Storage temperature
-30℃ ~ +85℃
Water/dust proof
IP65
Vibration
ISO 16750 / MIL-STD-810G
MC5 ECU
GNSS Performance
Channels
1100
Satellites tracking
GPS: L1CA/L1P/L1C/L2P/L2C/L5
BDS: B1I/B2I/B3I/B1C/B2a/B2b/
ACEBOC
GLONASS: G1/G2/G3, P1/P2
GALILEO: E1/E5a/E5b/E6/ALTBOC
QZSS: L1CA/L1C/L2C/L5/LEX
IRNSS: L5
SBAS: L1/L5
L-Band: Atlas H10/H30/Basic
Update rate
10 Hz
Horizontal positioning accuracy
Single: <1.2m ( RMS )
DGNSS: <0.3m ( RMS )
SBAS: <0.3m ( RMS )
RTK: 8mm + 1ppm ( RMS )
Atlas H10: 0.04m ( RMS )
Heading accuracy
<0.08°rms with 1.0m baseline
Re-acquisition
<1 second
Communication Interface
Bluetooth
4.2
Wi-Fi
IEEE 802.11 b/g/n
GSM
Global GSM/WCDMA/LTE
Port
1 x serial port, 18-pin
1 x SIM card
1 x GNSS heading, TNC
1 x UHF, TNC
Internal Radio
Frequency range
410 ~ 470 MHz & Hopping 902.4 ~ 928 MHz
Channel spacing
12.5 KHz / 25 KHz
Protocol
HZSZ, TrimTalk 450S, PCC-GMSK, South
Environment
Operating temperature
-40°C ~ +70°C
Storage temperature
-40°C ~ +85°C
Humidity
95%
Shock
EP 455 Section 5.14.1
Vibration
EP 455 Section 5.15.1 ( Random )
Water/dust proof
IP67
Power
Input voltage
9 ~ 28 V DC ( ISO 16750 4.2 B-H )
Physical Specification
Dimension
162.2mm x 162.8mm x 70.2mm
Material
Magnesium alloy
Weight
1284±20 g
EW1 Electric Steering Wheel
Motor
Working voltage
9 ~ 16 V DC
Nominal voltage
12 V DC
Output torque
9V DC : 6.5N.m
12V DC : 8.5N.m
Maximum output torque
13 N.m
Maximum power
< 200W
Maximum rotation speed
100 RPM
Load steering error
< ±5°
Response delay
Full range: 10 Hz
Straight walking: 20 Hz
Working Environment
Operating temperature
-20℃ ~ +70℃ ( -68°F ~ +158°F )
Storage temperature
-40℃ ~ +85℃ ( -104°F ~ +185°F )
Mechanical shock
EP455 5.14.1
Vibration characteristics
EP455 5.15.1 & 5.15.2
Communication
Interface
ALTW / 1DC-06PMMS-LC7001
Communication Protocol
SAE J1939 / ISO11783 CAN BUS
EMC / Safety / Environmental Protection
Radiated interference
Broadband: IAW ISO14982-2009/6.4
Narrowband: IAW ISO14982-2009/6.5
Radiation immunity
IAW ISO14982-2009/6.6
Electrostatic discharge ( ESD )
IAW ISO14982-2009/6.7
Environmental protection standard
2011/65/EU RoHS 2.0
Physical Specification
Dimensions
Φ180 x 80mm
Weight
4.6 kg
UA35 GNSS Antenna
Antenna Performance
Frequency
GPS: L1/L2/L5
BDS: B1/B2/B3
GLONASS: G1/G2/G3
GALILEO: E1/E5
QZSS
SBAS
L-Band
Polarization
Right-handed circular
Axis ratio
≤2dB @Axial
Antenna gain
GPS L1: > 6 dBi
GPS L2: > 5 dBi
Phase center offset
±2 mm
Physical Specification
Dimensions
Φ146mm x 46mm
Weight
500 g
Antenna interface
TNC-F
Radome material
ASA Plastic
Base material
Aluminum alloy
Mount
5/8-11UNC-2B
iMM1 Angle Sensor & iMM1 External IMU ( Optional )
Performance
Supply voltage
5.5 ~ 36V
Supply current
30mA / 12V
Power consumption
≤0.7W
Water/dust proof
IP67
Measurement range
±90°
Measurement axis
X-Y
Resolution
0.002°
Accuracy
0.1°
Update rate
1/2/5/10/20/50/100 Hz
Initialization time
≤ 5 seconds
Working Environment
Working temperature
-40℃ ~ +70℃
Storage temperature
-40℃ ~ +85℃
Shock
20000g, 0.5ms, 3 times/axis
Interface
CAN
Physical Specification
Material
Aluminum alloy

Rear Camera ( Optional )
Water/dust proof
IP67
Input voltage
12V DC
Port
Female, 4-pin aviation
LED
8 LED light
Resolution
720P, 1024 x 600