On October 22, 2021, UniStrong celebrated its 27th anniversary at the UniStrong PNT Innovation Center. Chairman Guo Xinping, General Manager Wang Zhiqiang and other members of the company leadership, as well as employee representatives from various business divisions and subsidiaries, celebrated the company's past 27 years with songs, gratitude and encouragement, and looked forward to future prospects with their best wishes.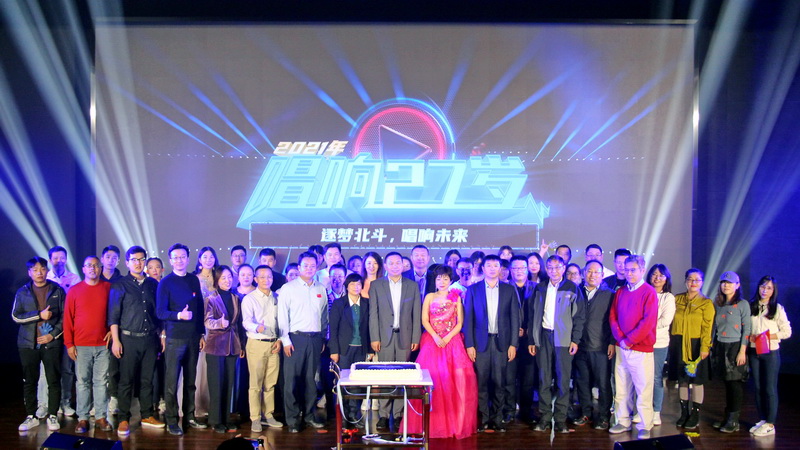 With the theme of "27 years", Guo Xinping gave an overview of UniStrong in the past 27 years and looked forward to a promising future. He said that in the past 27 years, UniStrong completed the upgrade from "end" to "cloud" based on the strategy of "BDS smart end + spatial-temporal digital cloud", and built an "end + cloud" spatial-temporal system, empowering the digital transformation. The growth of UniStrong is owing to the good times and the fast development of BDS.
Guo Xinping said that the BDS-3 global satellite system is the most advanced satellite navigation system in the world, with cutting-edge technology and powerful functions. Nonetheless, the official launching of BDS-3 is only one of the important milestones in the development of China's satellite navigation. In the future, a diversified and flexible comprehensive national PNT system covering from deep space to deep sea will be built, paving the way for the company's further growth. In this era of rapid technological change, UniStrong must strengthen strategic planning, truly grasp the pulse of the times, and find a correct development path. The growth of the company is inseparable from the joint efforts of all UniStrong employees. "I hope that we will continue to work together to create a brighter future."
General Manager Wang Zhiqiang said in his speech that in the past 27 years, UniStrong has grown from scratch, from small to large, and from weak to strong, traversing an extraordinary path of development and achieved brilliant results. Through the unremitting efforts of all UniStrong employees, UniStrong has ushered in new development with sustainable technological innovation and capability. "UniStrong has won many industry awards and honors, I believe that the future of UniStrong will be better and better."
Many awards were given out in the singing competition. Members of the company leadership presented trophies to the winning contestants and took a group photo.
At the end of the celebration, members of the company leadership joined hands in cutting the birthday cake and shared the joy of UniStrong's 27th birthday with all employees.